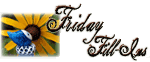 1. It's time for
coffee and biscuit
s.
2.
Work
; it's not a bad place for
filling out Friday Fill-Ins
.
3. I must be
crazy to always come back to the same question whether I should go back to that bookstore again to "have a look" - my suitcase will not take all these books I buy here!
4.
Travelling
is the best thing I have ever known.
5. My
office coffee cup
is simply
blue
.
6. The last time I laughed really loudly was
yesterday evening with my work colleague, sitting on a small stone wall near Okhotny Ryad at midnight and sharing stories about the abesent-mindedness of our boss.
.
7. And as for the weekend, tonight I'm looking forward to
sleep sleep sleep (oh, and eat these d*** potatoes I always forget about),
tomorrow my plans include
visiting
the Palace of the Romanov Boyars
and Sunday, I want to
do some other small museums - there is so much to see
!