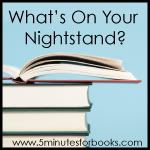 It's time again for "What's On Your Nightstand?" in the suddenly very rainy and windy end of May.
On my nightstand in May
are not many books I am actually reading, because I am having a time in which I read one book at a time. So the other books besides my current reading
Rebecca
are all books that are waiting to be the next one.


Rebecca
, Daphne Du Maurier
The Voodoo Queen
, Robert tallant
Moscow
, a travel guide
Good Wives
, Louisa May Alcott
A thousand splendid suns
, Khaled Hosseini